FIRST-TIME HOMEOWNERS ASSISTANCE PROGRAM
REQUIREMENTS
Must be a First Time Homeowner for five (5) years preceding the commencement date of the application
Must be a US Citizen or a Permanent Resident Alien
Must be a resident for Five (5) years preceding the commencement date of the application.
Must submit signed Purchase Agreement or Construction Contract
All Applicants must attend Homeownership Education Workshop: All applicants name must be on the certificate. (below is a list of the company administering the workshop or you may take the online workshop:
Community First Credit Union – Mike Finona
Micronesia Community Development Corporation – Carlos Camacho
Online Workshop: link – ehomeamerica.org (Please select Guam as your state / country, then and select Micronesia Community Development Corporation)
Must provide your certificate, and proof of payment (receipt or confirmation of payment).
Lender must be a Participating lending institution for the First-Time Homeowner Assistance Program
CHECKLIST
Purchase Agreement or Construction Contract
Application
Affidavit (please indicate citizenship), If married, spouse must sign affidavit
Verification of Residency
Department of Revenue & Taxation Clearance (Income & Property Division)
Certificate of Homeownership Education Workshop (Must provide a copy of paid receipt)
Bank Documents:
Commitment Letter
Down Payment & Closing Cost Breakdown (Truth-In-Lending Disclosure Statement)
Letter of Participation from Lender (Bank), if not a participant
Provide letter or document if applicant(s) is / are receiving any assistance for closing cost (i.e. gift letter)
Passport Copy (Must provide copy for all applicants)
Note:  If Constructing and purchasing property, purchase agreement must be submitted along with Construction Contract.
Application will not be processed until all required documents are submitted.
Total cost of the home plus closing cost cannot exceed $250,000.00 (Purchase Agreement or Construction contract to include closing cost).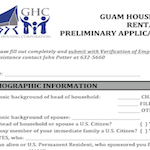 APPLICATION PACKET FORM
FTHAP_Requirements – 17Apr15
Updated Form for Verification of Residency. Posted 6/21/2017
Verification of Residency_Assistance Program
Clearance from Revenue & Taxation
Save